Bike tours
Suite Centro uses certified guides to take you on a bike to discover Palermo and beyond!
Walk with us to rediscover more than 28 centuries of Palermo's history. Between a thousand streets and a hundred squares, baroque churches and Norman palaces,
PEDALARE IT IS NOT EVEN … CULTURAL!
It is possible to do different bike tours, even personalized.
We propose someone:
PALERMO IS BEAUTIFUL
A tour dedicated to families with children and children from 7 to 13 years old, to discover places of great interest for young explorers.
It will start from Descent of the Judges to reach Revolution Square, famous for the fountain of the Genius, the guardian of the city. Here we will stop to discover the various meanings of his iconography.
From Revolution Square following a safe itinerary we will arrive in various places like Villa Giulia, to meet again the Genius and to listen to the story of Ciccio, the lion roaring only if his shoulders and, on days when it is open, the Museum International of Puppets where we will be guided in the fantastic world of popular traditions.
The pedal will be supported by many other stories, places and games that will allow participants to learn and know the history of the city of Palermo.
The tour will end at one of our reported places to enjoy a good dessert or an ice cream.
The bicycle delivery will take place again in the descent of the judges.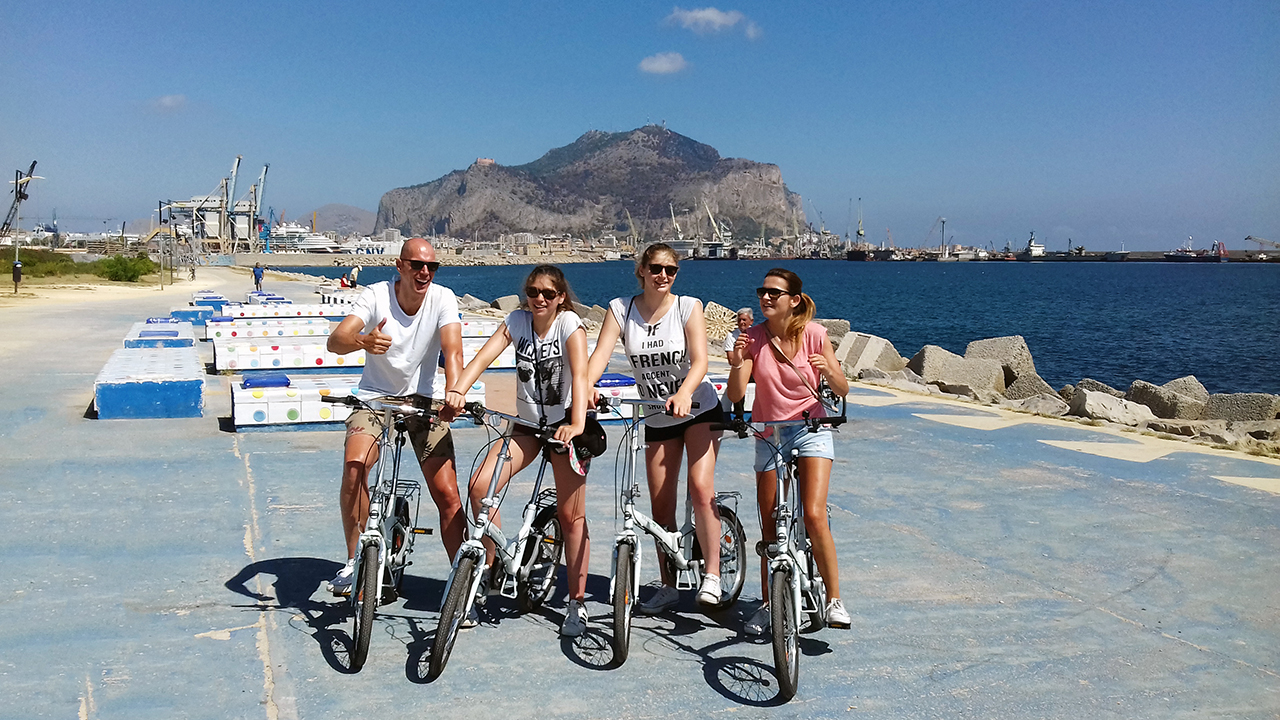 BIKE DELIVERY AND RETURN: DISCUSSION OF JUDGES 21 – PALERMO
Duration: 3 hours
Number of participants: Min 3 – Max 8: for every extra person contact us.
Dress code: It is recommended to wear comfortable shoes
Prices:
For 1-3 people: € 129
+ € 25 each extra person
Languages:
Italian
Inglese
Français
CYCLING HAPPY HOUR
Every Tuesday and Thursday, you can discover the historic center of Palermo with an hour and a half tour, enjoying the soft and relaxing atmosphere of the city, among its elegant streets and monuments and its stunning seafront promenade. The tour ends with a drink in one of the most central and cozy pubs
Join us … Pedaling has never been so … SOCIAL !!!
SPECIFICATIONS
Departure and Return: Descent of the Judges 21 – Palermo
Duration: 1h 30 hours
Number of participants: Min 2- Max 6, for more people contact us.
Dress code: Use of comfortable and closed shoes is recommended.
Min 2 people
2 people: € 50
+ € 20 each extra person
Languages:
Italian
Inglese
Français